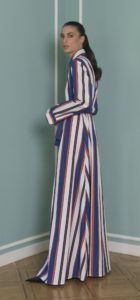 Evi Grintela The Shirtdress is a brand based on the idea of the timeless icon, borrowing from the gentleman's, high quality well-cut shirts.
For Spring Summer 2018, Evi Grintela the Shirtdress
draws inspiration by the Dolce Vita in the late 60's, early 70's as captured in
Slim Aarons iconic photographs. Through this collection of sunburned
colors, you can dream of the lazy days by the pool,
the sense of ease, a new luxury.
Slim Aarons Modern Fantasy, features Evi Grintela' s signature maxi
shirtdresses in bold stripes and fine broderie, shirting matching with trousers
while also introducing a new line of shirt caftans.
Evi Grintela The Shirtdress uses the highest quality of Italian & Swiss
cotton. Some staples in linen, custom made prints in the finest voile
cotton, the timeless Liberty fabrics, a combination of cotton and silk:
Soft & luxurious, reminiscing the light in Aarons photographs.